Introducing the New Innovative and Decorative Kat Kastle!
Your cat will love the new Kat Kastle! Not only is it an attractive addition to any decor, its size and functionality are unsurpassed in the cat industry.
First and foremost, it sets up in seconds and conveniently folds flat for easy handling and portability. The front and back of the Kat Kastle features a cat face made from 15 ml (.59 inches) laser cut wood. The fabric is flame retardant and washable. The durable, strong and quality construction creates a long lasting, safe place, for your kitty to fulfill their natural instincts, through play, scratching, and of course, napping. Your kitty will be delighted with their new Kat Kastle!
The features your cat will love:
Padded, flat roof provides an additional rest and play area.
Includes a playful hanging toy for year round enjoyment.
One side panel has a pocket to easily store toys, treats and much more.
The other side has a zippered panel that can be rolled up allowing additional air flow.
It comes with an 11″w x 16″t detachable, natural sisal fabric scratching pad that attaches with velcro to the back panel.
Pass-thru and detachable PVC screen door will provide your kitty with an extra cozy place to sleep.
Optional electric heating pad will offer additional warmth for those kitties that desire or need it.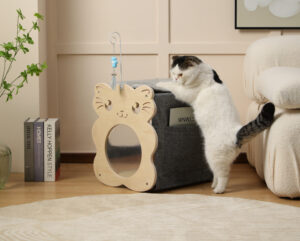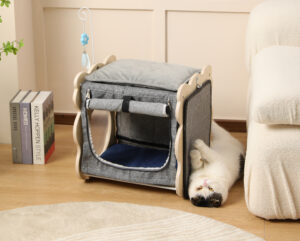 The overall assembled dimensions of 16″w x 18″d x 18″h (40 x 40 x 46 cm) allows it to comfortably fit into any living space. When folded flat, the Kat Kastle measures just 16″w x 18″d x 4″ h for easy and convenient storage.